Pack in Style: The Must-Have Designer Tote Bags for Your Honeymoon Trip
11 Best designer Tote bags for Travel
This post contains affiliate links, which means we'll receive a commission if you purchase through our links, at no extra cost to you. Read the disclosure here.
It makes sense to spend money on classic items that are made to last, like a luxury handbag, in the era of rapid fashion and a trend cycle that moves at warp speed.
A high-quality bag not only elevates any outfit, but it also ends up being a more environmentally friendly buy because you may use it for many years.
For me, style comes first. Believe me when I say that most tote bags are safe if you keep them close to you. On our last visit to Paris, I used Marc jacob's The tote Bag and I kept it close to me all the time and Nothing happened… No theft ..No scam nothing!!
So, I don't advise you to buy uncool-looking tote bags just for the sake of safety. If you can afford to buy a high-end, fashionable purse, buy it and flaunt it, girl!
If you can't afford it, I'd say, "Buy something cool in a lower price range." I would surely advise keeping your High-end purse next to you always and keeping an eye on it is the key to avoiding scams.
But if you don't pick the right tote bag for your trip to Europe, you can end up with stiff shoulders from carrying it around all day, second thoughts about its dimensions or silhouette, or, in the worst-case scenario, your possessions might get stolen.
It doesn't matter if you're going to see the Colosseum in Rome, take a leisurely stroll through the alleyways of a quaint village in Provence, or do all of your Christmas shopping in the markets in Vienna; you'll need the greatest travel bag possible for the occasion.
Since I have traveled a lot in Europe, I have learned (sometimes the hard way) how to choose the best travel purse for Europe based on what is important and what is not.
We've compiled a list of the best designer tote bags for travel [for luxe style and organization] for all budgets. from Net-a-Porter to Nordstrom to Farfetch to Amazon …
What are the Best Designer tote bags for travel?
A tote bag lets you easily reach your passport, phone charger, camera, extra lens, wallet, laptop, hand sanitizer, sunglasses, medication, lip balm, other travel beauty products, water bottle, snacks, shoes, and a swimsuit or change of clothes.
They're perfect for day trips and last-minute Gifts as well….
Here is the list of the best designer travel totes.
Before you travel, make sure you don't overlook these three vital considerations:
1. Get travel insurance! I have complete faith in Essential Travel -Insurance, and I have nothing but positive things to say about them.
They offer three policy options: bronze, silver, and gold, with gold being the most expensive and providing the most coverage.

In addition to the standard coverage, they take care of things like flight delays and cancellations, unexpected medical expenses, and misplaced luggage (as per the policy type selected). And the lowest price for one of their Bronze plans is just $39.56 for a young couple valid for up to 22 days of a Trip( For Example).
To purchase your Essential Travel Medical Insurance, click on the link provided and save up to 50% of holiday add-ons.
2.Visit my Travel Gear and Resources Page to see what I think are the best travel tools and services that can help you plan your trip.
I hope you find this information useful.3.
3.If you are travelling to EUROPE
If you are not keen to drive in Europe, , you can use the OMIO.com website to purchase train tickets between the city and for day trips.
The OMIO website also allows you to book train tickets between the cities and other destinations.
It is quite simple, and it is in the English language.
---
Uncomplicated and plenty in space When I first thought about buying this bag due of the price.
I had some initial reservations; but, as soon as I opened the box, I fell in love with it! It is very uncomplicated, yet it manages to be really elegant at the same time.
I have no idea how it works, but it does! Since the Covid-19 era demands me to take so much more with me (laptop, iPad, books, hand sanitizer, planner, pump, and several bottles for my newborn).
I'm using it as my everyday bag for work and travel . It accommodates everything I need to bring with me! A fantastic deal!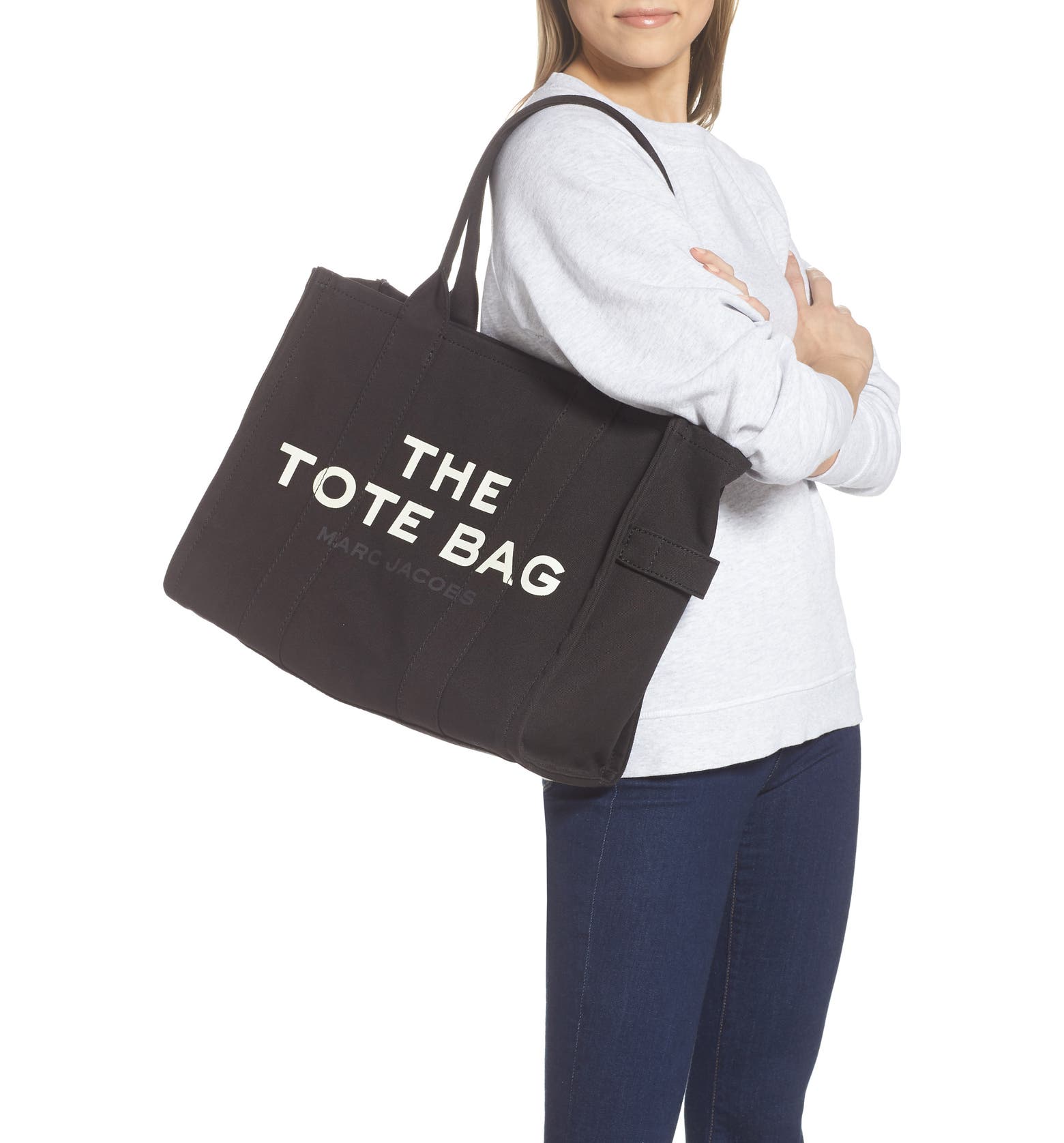 ---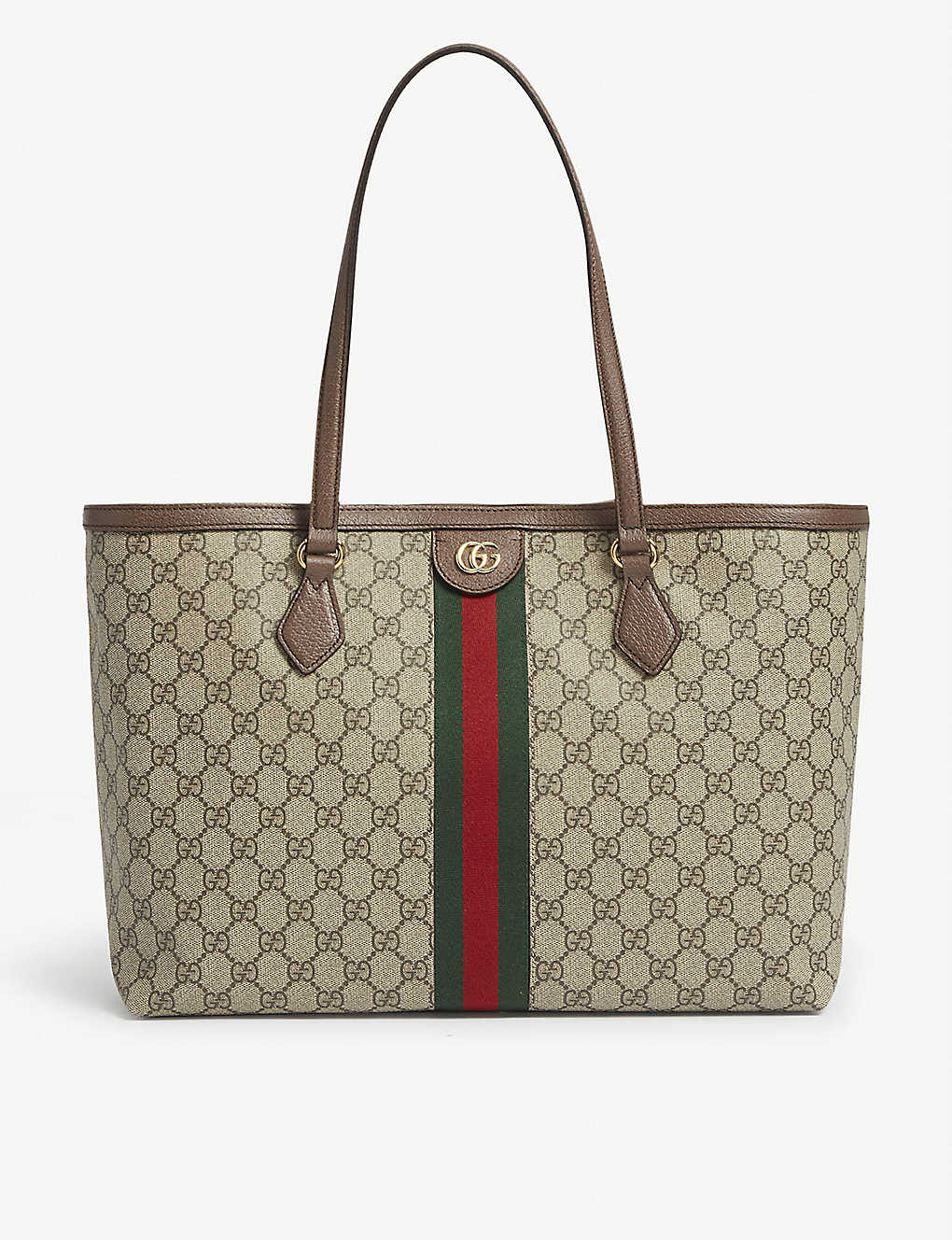 The legendary label Gucci is still a force to be reckoned with despite having Alessandro Michele at the helm of its creative direction. Gucci is known for its varied design approach.
The timeless combination of the brand's signature motif with the Web stripe is featured on the Ophidia GG Supreme tote, which is crafted in Italy and features leather trims and antique gold-toned metalwork.
The detachable pouch is perfect for storing smaller essentials and can be worn as a crossbody bag. (The height is 28 cm, the width is 38 cm, and the depth is 14 cm)
---
The 'Sunshine Shopper' tote by Fendi is a roomy accessory that can accommodate all of your day-to-day necessities, from your laptop to an extra pair of heels.
It was made at the atelier of the brand in Italy out of leather, and it features an embossed signature brand mark.
Even the handles, which have the appearance of tortoiseshell, are adorned with gold 'FF' marking.
---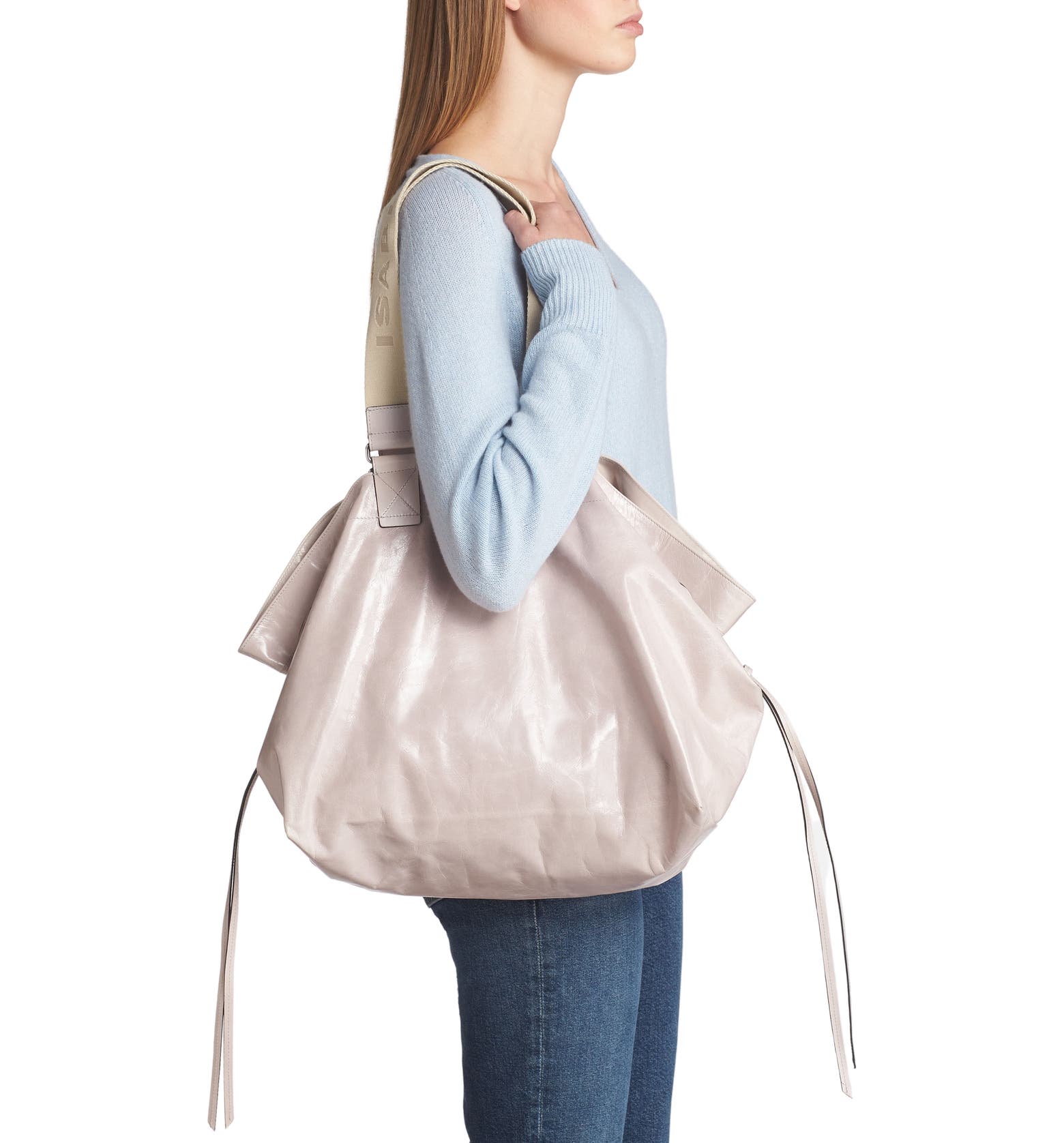 This roomy shopper has been crafted out of glazed leather, and it has been designed with swingy side laces and two sets of handles.
You can carry it in your hand using the shorter leather pair, or you can drape the longer woven straps over your shoulder for a convenient hands-free option.
---
Japanese vegan leather tote bag
The tonal construction allows the panelled design of this MM6 Maison Margiela tote bag to take the focus, highlighting the craftsmanship and modern feel.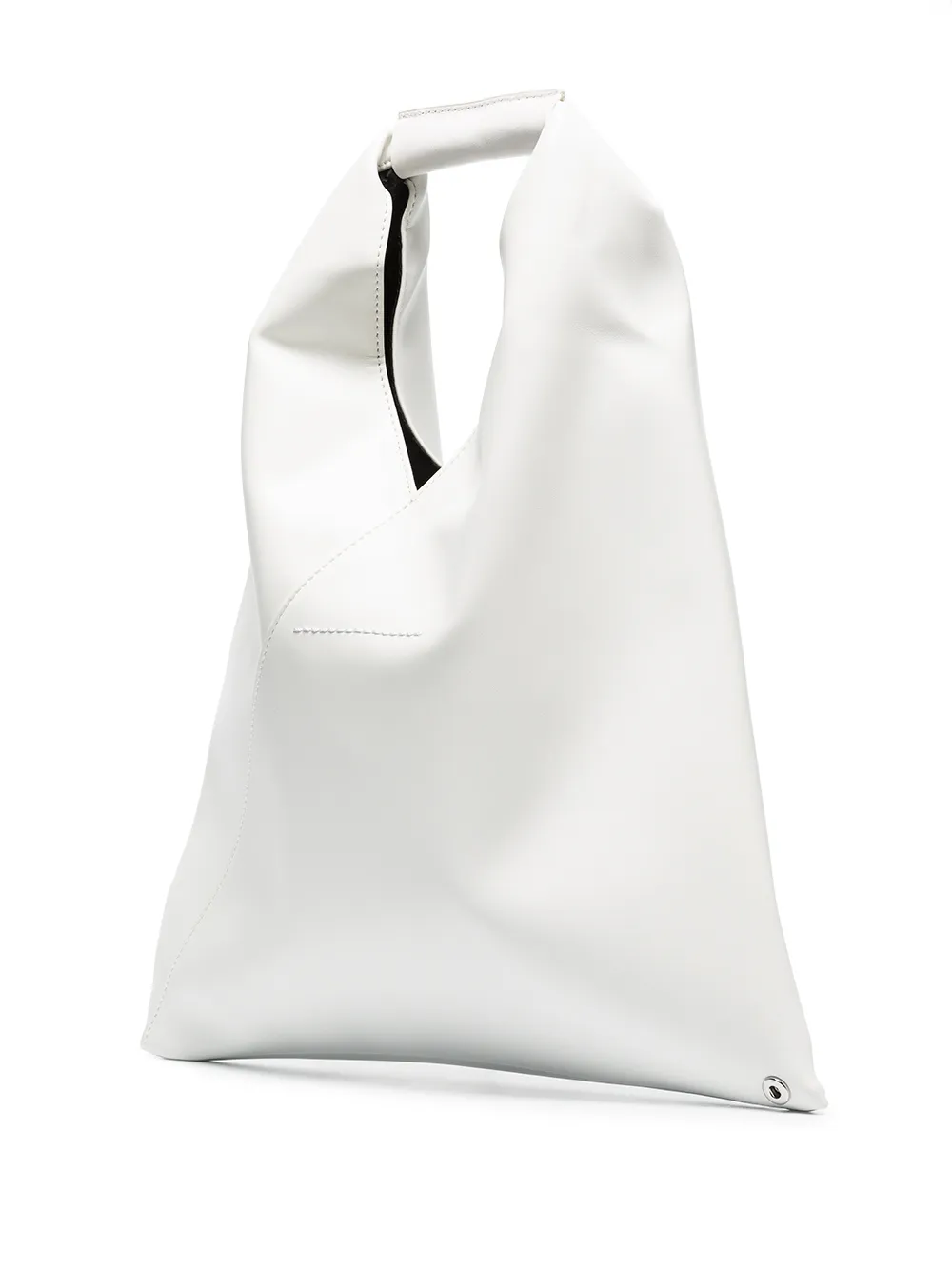 ---
The Row's medium 'Park 3' tote is an accessory that can be used for a variety of occasions, including going to the workplace, going out on the weekend, and traveling.
It is crafted in Italy out of smooth leather and features slender, sophisticated handles. It is large enough to store all of your essentials, in addition to a tablet or notebook.
---
Catherine Holstein has demonstrated her mastery in the art of combining fashion and usefulness with her collection for Khaite titled "Luggage."
This particular iteration of the new 'Circle' tote from the brand has been crafted in Italy from smooth black leather and features a rounded base that lends shape to the bag's otherwise slouchy appearance.
There is enough space inside for your laptop as well as a change of shoes, and it also has a pocket with a zipper that may hold your keys as well as a lipstick.
---
When Jonathan Anderson took over as creative director of Loewe, he updated the iconic 'Anagram' pattern that had been created by Spanish artist Vicente Vela in the 1970s and used as the theme for the brand's signature tote bag.
This spacious bag has been crafted in Spain by talented artisans out of leather that has been smoothed, and it features straps that can be adjusted to two different lengths.
---
The 'Arco' tote from Bottega Veneta is the perfect bag for carrying all of your day-to-day essentials thanks to its roomy inside and classic style.
It is skillfully crafted from leather in an enlarged version of the brand's signature intrecciato weave, and it features a detachable pouch with a zipper that can be used to keep smaller goods secure and in order.
---
Jonathan Anderson, the head of Loewe, is a strong advocate for craft in all of its incarnations, whether it is through the revival of traditional methods or the collaboration with highly trained workers.
This bag, which was designed in conjunction with Paula's Ibiza, was crafted in Spain out of raffia and adorned with a 'Anagram' logo as the finishing touch. T
ie the leather ties together in a knot to fasten the open top.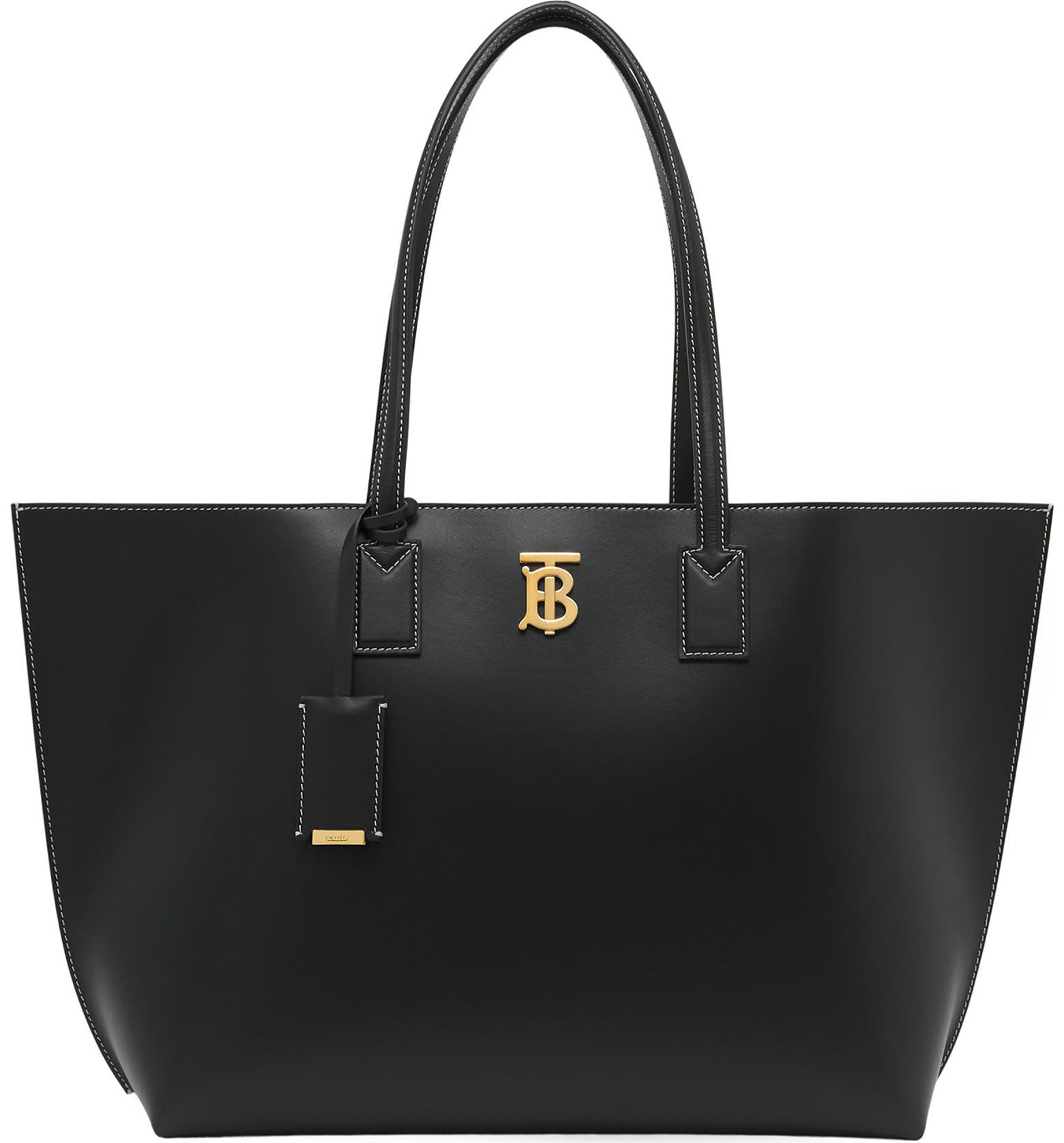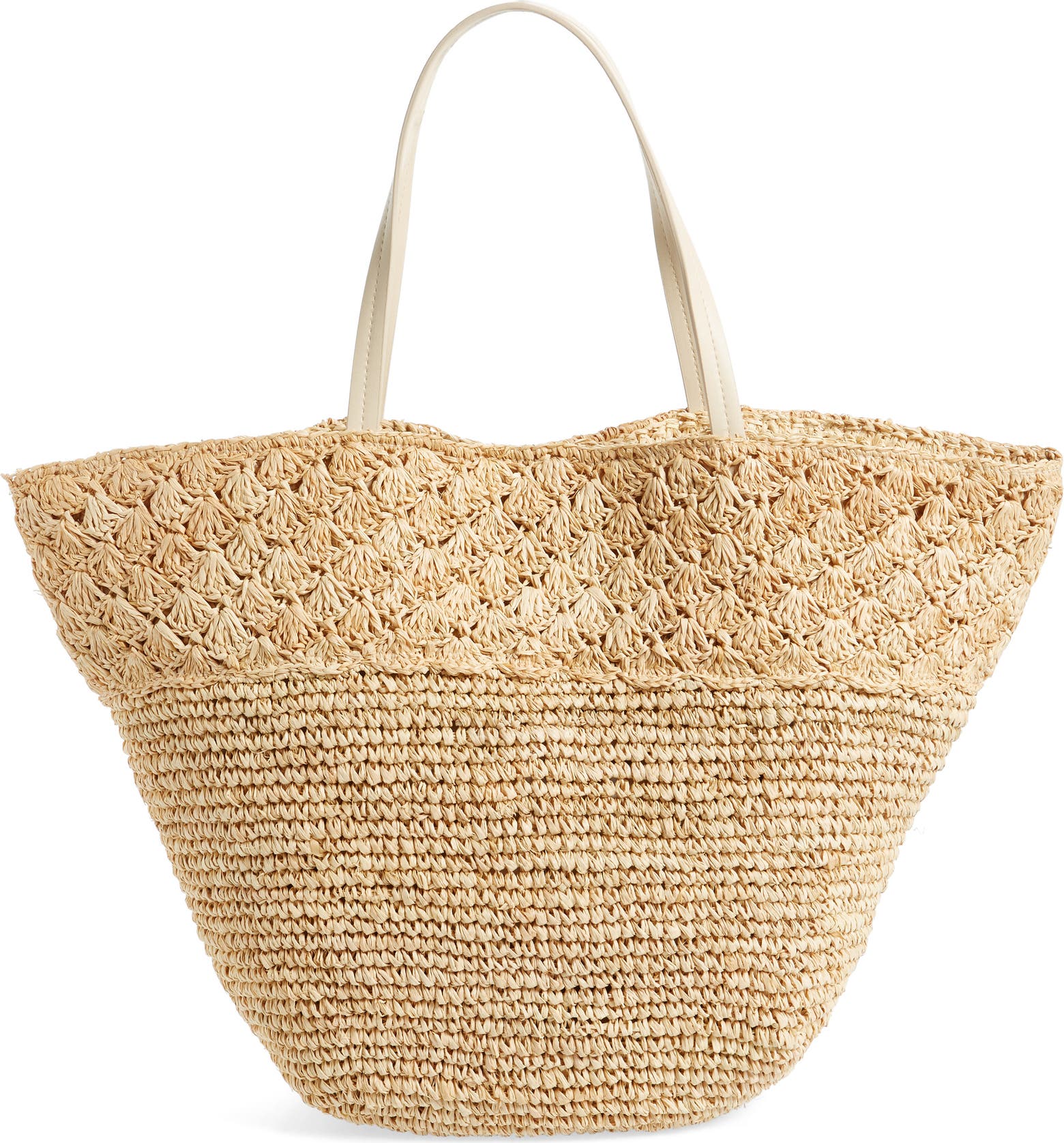 ---
Tips for Choosing the Right Designer Tote Bag
Brand of the Designer Tote bag

When deciding on a Designer TOTE purchase, it's important to think about the brand name's reputation for quality and durability.
The bigger the Brand is, the better the quality of the bag. This will not only make it survive longer, but it will also increase its resale value, giving you a chance to recoup some of your investment if you ever decide to sell it.
You should always retain the idea of reselling in the back of your mind … so, what's the saying? The more expensive the bag, the more money you can make while reselling it.
Color of the TOTE Bag
I 'd say colour is extremely crucial to keep in mind—if you're investing in a nice Designer Tote bag without any intention of resale, you want something that's going to work with pretty much any, if not all, of your outfits,
So which colour to buy? Darker, neutral colours match well.
Cost

Cost is likely one of your most vital considerations when buying a travel tote, whether you're a budget, luxury, or middle-class traveller.
Designer bags are expensive but durable and does have re-sale value.
. Most designer bags carry guarantees to repair or replace damaged bags. If you travel often, buying a high-quality travel tote is better than replacing it every two to three years.
Size of the Tote bag

Many fashion stylists , recommends that, before purchasing any tote bag, whether designer or not, the buyer consider the bag's size.
If you're shopping for a tote, it's likely because you have a lot of belongings that you need to transport from place to place, so you should make sure that the bag you buy has enough space. If you need to carry a laptop or a water bottle in addition to other smaller items, check the bag's size to be sure you'll have enough room.
Along those lines, the significance of the straps' width, noting that broader straps make for a more at-ease experience. It's not something you want to have bite into your shoulder..
Security

Travel tote bags must be secure. An open-top tote with inside compartments makes it easy to access your phone, keys, wallet, and passport, but one with a top zip or magnetic clasp will keep your possessions safe.
A work travel tote should have zippers, slide pockets, a padded sleeve to protect your laptop or tablet, and a removable zip pouch for daily use.
Material

Lastly, regarding the material of your TOTE bag, I'd suggest choosing leather over the canvas is vital since leather can be cleaned and shined after severe use but canvas would likely degrade and fray with time, which can't be reversed. I would recommend leather or vegan leather for expensive bags.
Trust me, These bags will last longer and can easily be sent to a leather Guy across the corner (or the correct shoe repair site!) for a small cost if and when it degrades.
Wrapping Up Note
Putting the Final Bow on the Top Travel Purse for Europe
Because you are now more knowledgeable about some of the best TOTE bags now available, you are in a better position to choose the one that meets your specific needs and preferences.
Despite the fact that there are many more travel purses available, these are the best travel purses for traveling in Europe for a variety of reasons, including their safety features, ergonomic design, comfort, and stylish appearance. Therefore, you should do yourself a favor and pack appropriately for your trip.
Why Trust Coffeefenzy?
This article was written by Div Acharya a Millennial Fashionista & Influencer who covers Travel, and Style among other topics.
To write this piece, she considered each item's material, size, and upholstery, as well as its style.
Every piece of Style Item ( be it a bag, shoes, sunglasses, watches or dress this list not only makes for stylish apparel but is comfortable enough to wear.
---
Hi, I'm Div 👋
My team of travel experts and I help 1,000s of honeymooners plan their trip every year. If you need any assistance planning your honeymoon, connect with us here. As Sandals Specialists & Booking.com Specialists, we would love to help you plan your perfect honeymoon!